Introducing the Crossover 40 Ft Cabin Boat: the epitome of luxury and versatility in the world of cabin boats. Get ready to embark on a journey of nautical excellence as we explore the exceptional features and highlights of this express cruiser.
When it comes to cabin boats, the Crossover 40 Ft Cabin Boat is in a league of its own. This express cruiser offers the perfect combination of luxury, versatility, and functionality. Whether you're cruising along the coast or enjoying a day on the lake, this boat provides an exceptional experience. In this blog post, we will explore the features and highlights of the Crossover 40 Ft Cabin Boat, including its spacious cabin, submersible swim platform, and outstanding design. Get ready to embark on a journey of nautical excellence.
Smart Cabin Boat 
The Crossover 40 Ft Cabin Boat stands out with its elegant design and new lounge configuration. Its open bow design takes the concept of a cabin boat to new heights. The boat features a spacious and hydraulically operated swim platform, perfect for water activities and relaxation. Additionally, the boat offers a gourmet space equipped with a grill, sink, and ample storage, ensuring your culinary needs are met.
The cabin is meticulously designed, offering a spacious and inviting atmosphere. The main saloon boasts generous seating with plush sofas, accommodating up to 14 people comfortably. A well-positioned table adds convenience and functionality.
The helm area provides a commanding view of the surroundings and is equipped with state-of-the-art technology and digital screens for smooth navigation. Comfortable seating arrangements and a wet bar complete the helm area, creating the perfect space for entertaining guests or enjoying the journey.
The cabin itself combines elegance and practicality. The master stateroom features a comfortable bed and ample storage space. Natural light fills the cabin through large windows and a skylight, creating a warm and inviting ambiance. The guest cabin offers additional sleeping arrangements and a TV for entertainment.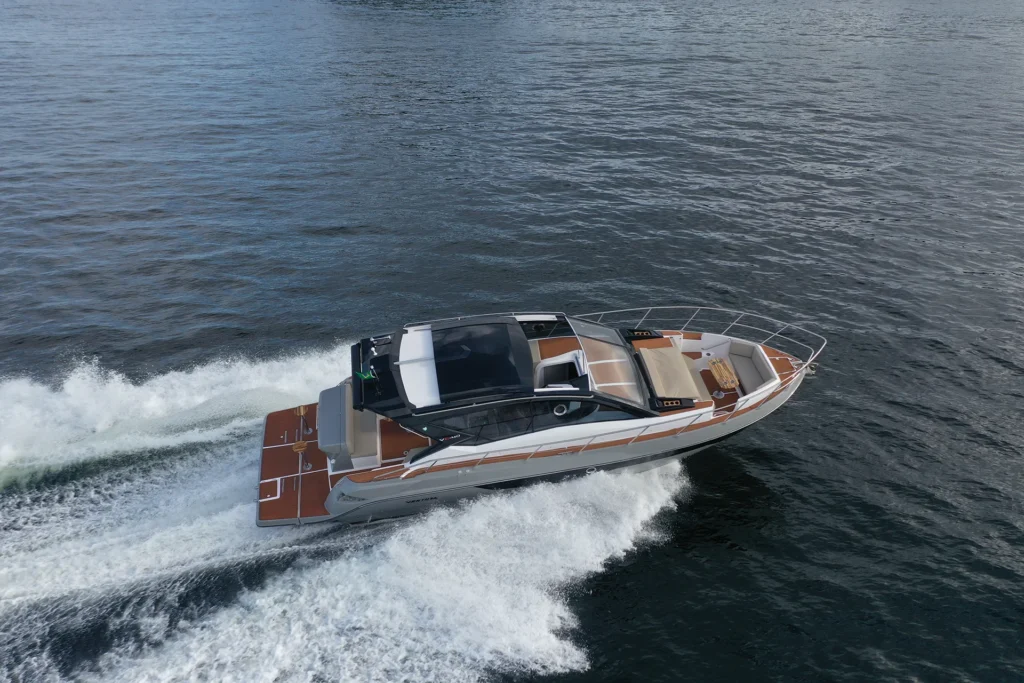 Unmatched Performance and Design
The Crossover 40 Ft Cabin Boat delivers exceptional performance on the water. Powered by sterndrive or outboard engines, it offers a smooth and exhilarating ride. Its hull design ensures stability and maneuverability, making it suitable for coastal adventures and lake excursions.
The boat's sleek lines and modern aesthetics showcase a true work of art. Every detail, from high-quality finishes to strategically placed amenities, exemplifies the pursuit of perfection in both form and function.
Fuel Consumption, Top Speed, and Cruising Speed
The Crossover 40 Ft Cabin Boat is designed to be fuel-efficient without compromising performance. Its advanced propulsion system optimizes fuel usage for longer trips and reduced refueling stops. While specific fuel consumption may vary based on factors such as load, speed, and water conditions, the Crossover 40 Ft Cabin Boat is known for its favorable fuel efficiency compared to other boats in its class.
When it comes to top speed, this powerful boat can reach impressive velocities of around 40 to 45 knots (46 to 52 mph or 74 to 83 km/h), depending on factors like load and environmental conditions. This allows for exhilarating speeds and quick travel when desired.
For cruising speed, the Crossover 40 Ft Cabin Boat offers a comfortable and efficient pace for longer journeys, typically ranging from 25 to 30 knots (29 to 35 mph or 46 to 56 km/h). This cruising speed ensures a smooth and stable ride while maximizing fuel efficiency, allowing you to cover a significant distance while enjoying the scenic views and amenities of the boat.
In conclusion, the Crossover 40 Ft Cabin Boat is a true masterpiece that seamlessly combines the best features of cabin boats and express cruisers. Its luxurious cabin, versatile exterior, and exceptional performance make it the ultimate choice for boating enthusiasts seeking coastal adventures or tranquil days on the lake. Don't miss the opportunity to experience the unparalleled comfort and elegance of the Crossover 40 Ft Cabin Boat. Set sail and create unforgettable memories on the water.